Toy Game - A Royal Mess
A downloadable game for Windows
Interact with more than 50 NPC's to discover the story that Toy Game - A Royal Mess is all about! Feel the nostalgia of your childhood when you walk around the world, and explore the different areas of the game. Use different tools to complete tasks given by the people, but beware, there are often more than one solution to the problem!
Help the grandma get her cat down by either cutting down the tree with a chainsaw, which would hurt the cat, or paint a bowl of milk on a sign and lure the cat down safely! Depending on how you solve the quests, the NPC's will respond differently.
Depending on your choices, the game will have one of two endings, but it's up to you to find out how to get each one. Rejoice into child like wonder once again, and find the easter eggs scattered all around the game.
The game is played on PC using these controls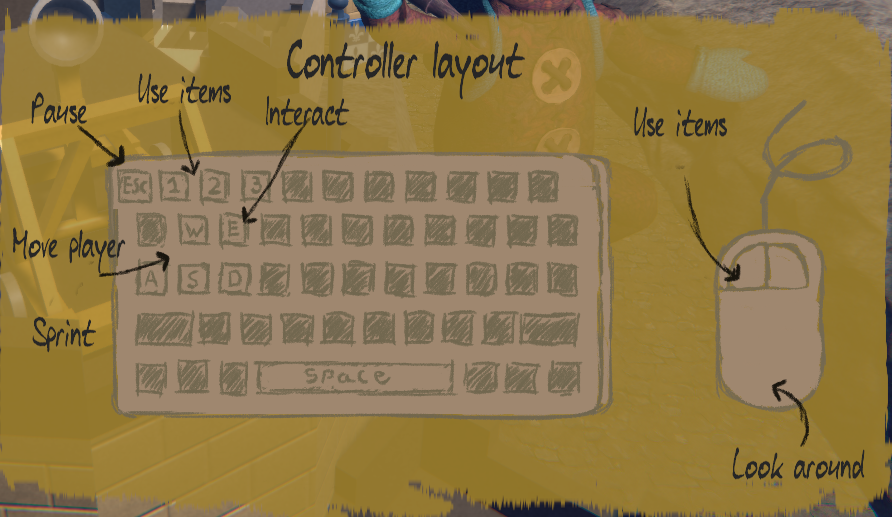 This game took approximately 7 weeks to create with a team of 18 students with different backgrounds, interests and skills. We are all from different higher educational institutions in Denmark, and all have a passion for games.
Our team is called Crowless Games, because of some test results we received from our first game "Shrouded Darkness".
The following people helped create this game:
Morten Trier Bach, QA&UR Manager
Adrien Cochard, Lead Programmer - LinkedIn, Itch
Marcus Petpradit Hansen, Artist
Martin Hansen, Game Director - LinkedIn
Nicklas Thode Hansen, Artist - LinkedIn, Artstation
Gustav Jakobsen, Producer - LinkedIn
Piotr Ładoński, Programmer - LinkedIn
Katrine Larsen, Artist
Thevakorn Lauritsen, Game & Level Designer - LinkedIn
Niek Meffert, Lead Artist
Cisser Mæhl, Composer
Mark Oliver Sandfeld Nielsen, Game & Level Designer
Jakob Sproegel Pedersen, Audio Designer
Dario Safić, Programmer
Stefan Nordam Suadicani, Programmer
Georg Helt Veje, Artist
We would also like to thank the following people:
Testers:
Simon Dannevang
Alexandru Orestis Giuran
Emil Bisgaard Jepsen
Andreas Ottosen
Kasper Sørensen
QA & UR Producer:
Gustav Schrøder
Special thanks to these individuals as well, whom without, this game would not be possible:
Special thanks to:
Simon Jon Andreasen
Tore Blystad
Anna Brinkschulte
Anne Clausen
Thomas Howalt
Michael Rud Jakobsen
Carsten Finn Jensen
Søren Lundgaard
Simon Løvind
Astrid B. Zidara Madsen
Niklas Schak
Ricardo Sissnet
Paul Tyler
Henriette Nøddebo Wibe
Gunnar Wille
| | |
| --- | --- |
| Status | Released |
| Platforms | Windows |
| Authors | DADIU, Martin, Niek Meffert |
| Genre | Adventure |
| Tags | 3D, Atmospheric, Casual, Cute, Funny, Multiple Endings, Narrative, Singleplayer, Story Rich, Unity |
Download
Download
DADIU_2021_Team4_ToyGameARoyalMess.zip
1,012 MB
Install instructions
1. Download the zip file and extract all
2. Click the .exe file which will open the game
Have fun!